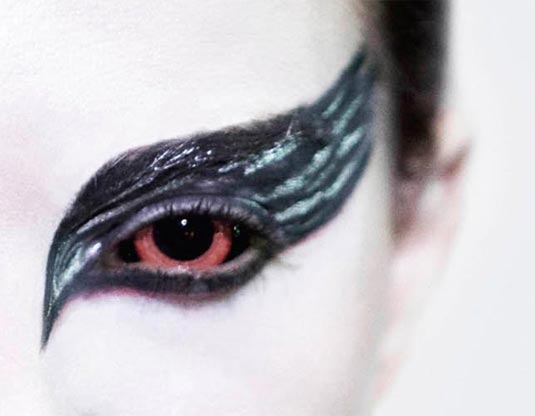 Hello people.... What up?! Haven't sleep yet? Aww, insomnia? You've got the right timing. Let me tell you or we could talk about random stuff? How's that? Boring?? Fine. Anything you know 'bout "Black Swan". Yeah baby! That movie..."Black Swan". Freakin haunted right??!
OK, ni buka cerita pasal Banglo Seksyen2 Shah Alam atau cerita Khurafat tp ni cerita yang I think maybe ada director yang pernah buat movie mcm ni you know tentang psychopat or orang yang berimaginasi dengan diri sendiri. Yes. I think quite a lot. It is a story about a sweet young lady name Nina. She is a ballerina and she has a pretty thin torso and a sharp but sweet face. Sekali pandang memang comel la. Ayu2. Seorang yang pelembut, very control, ala2 ketimuran and tak sosial. But she is FREAK in certain parts. I don't know. This movie is god damn weird. Haish. Nak buat review sikit pun susah la. HAHA. However, I'll try figure this out. Thomas, tenaga pengajar @ pengarah seni di tempat dia menari tu bagi dia watak sebagai White Swan dan pada masa yang sama dia juga kena jadi Black Swan. Diorang ada mcm teater ballet bertajuk Swan Lake. So, she got very excited dapat role tu. But at the mean time, she was pressured. Banyak benda memberi tekanan kt dia. One of them is BETH. Watak ballerina yang off (berhenti ) dari jadi ballerina disebabkan oleh unknown reason. I guess maybe sebab Nina jugak. Someone replace Beth and it was Nina. So Beth mcm berdendam and marah dengan Nina. Nina thinks too much. Dia rasa Beth akan buat sesuatu kt dia. So, Beth mulalah menghantui diri Nina tu. She saw Beth everywhere. Sedangkan tu khayalan dia je. Lebih senang wa cakap dia banyak bermain dengan imaginasi dia sendiri la. Suddenly one night, selepas dia sedar yang selama ni dia lemah and terlalu lembut, so dia mula jadi kasar one noght bila Lily datang rumah dia. She got the guts to marah2 dekat mak dia and lawan cakap mak dia sebab selama ni dia asyik menurut perintah mak dia je. So, she starts drinking, clubbing dan semua benda ing..ing..HAHA. But the part that I can't even forget at all is of course bila dia berimaginasi having sex dengan Lily. That was just so lesbo. I was like...(jawdrop..watta HELL??) ....
Ok. Let's jump off to the ending. I feel bore. Ending dia, still, permainan ilusi. Dia berimaginasi dia had fighting dengan Lily sebab she saw that Lily nak rampas watak Black Swan dari dia. They had a fight dan dia terbunuh Lily. Dia bawak mayat Lily dalam toilet and dia terus buat show. Lepas show, dia masuk changing room dia and suddenly ada orang ketuk pintu. Bila dia buka, it's Lily. Dia terkejut beruk la. Hantu ke ape nih?! Haha. So, dia pun acting normal. Time show last tu, bila dah habis show baru dia sedar, dia bukan bunuh Lily, dia bunuh diri dia sendiri. So she died on the stage peacefully.
"I felt perfect, I was perfect"
Layan dulu synopis dr FOX.
Nina (Portman) is a ballerina in a New York City ballet company whose life, like all those in her profession, is completely consumed with dance. She lives with her obsessive former ballerina mother Erica (Hershey) who exerts a suffocating control over her. When artistic director Thomas Leroy (Cassel) decides to replace prima ballerina Beth MacIntyre (Ryder) for the opening production of their new season, Swan Lake, Nina is his first choice. But Nina has competition: a new dancer, Lily (Kunis), who impresses Leroy as well. Swan Lake requires a dancer who can play both the White Swan with innocence and grace, and the Black Swan, who represents guile and sensuality. Nina fits the White Swan role perfectly but Lily is the personification of the Black Swan. As the two young dancers expand their rivalry into a twisted friendship, Nina begins to get more in touch with her dark side - a recklessness that threatens to destroy her.

Written by Fox Searchlight Pictures


p/s: OK. Trivia sikit. Natalie Portman memainkan watak sebagai Nina. Budget bagi filem ni ialah USD 13 juta. I rate this film 7/10.